I'm always honored when people put their business ideas into my hands to create new design work. It's especially exciting to me when it's a creative business, launched by an individual, which is near and dear to me, running my own independent creative business. This case is no different, except I've seen years of exceptional projects come from this individual. Sue's Sewing and Embroidery provides excellent work for sewing and custom machine embroidery projects, and would certainly be a great choice to create something special for you.
I really enjoy being able to design for weddings beyond the invitation and work on all the little touches that personalize the wedding day itself. Once the wedding invitation was in the mail, there were a bunch of items to make for Denise and Jared's winery wedding. It was quite the variety, from hand-lettered signage, to favor hang tags. My personal favorite was the bar signs, so much fun (and gold ink)!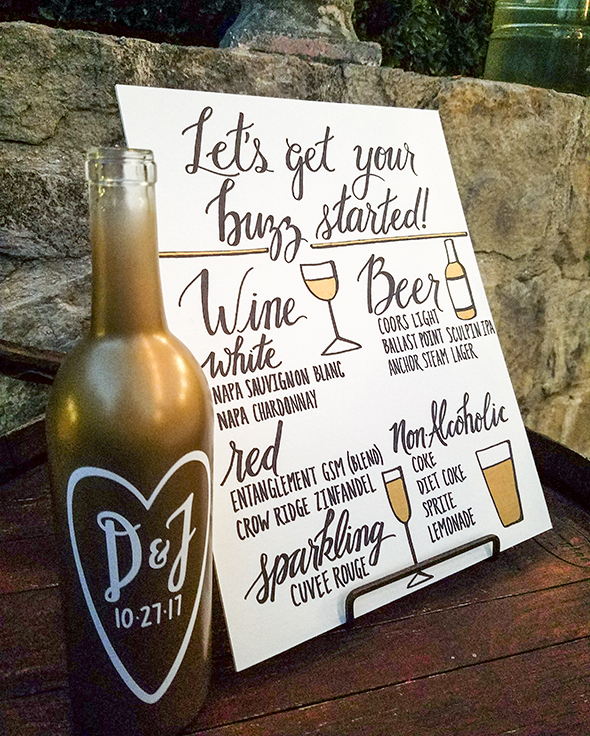 Probably the best thing about working on this wedding was being able to make the day beautiful for my friends. I really enjoyed brainstorming with the bride and the groom and bringing back the finished pieces that fit right into their vision for their special day.
Launching a new business is exciting and I'm always honored to design a custom look and feel. For this data visualization company, I was given a color palette and direction to make a look that was "fresh and fun" while still being appropriate for the tech sector. After pencil sketches and a first round of options, one design stood out as the clear solution. Below are the three final versions.