I really enjoy being able to design for weddings beyond the invitation and work on all the little touches that personalize the wedding day itself. Once the wedding invitation was in the mail, there were a bunch of items to make for Denise and Jared's winery wedding. It was quite the variety, from hand-lettered signage, to favor hang tags. My personal favorite was the bar signs, so much fun (and gold ink)!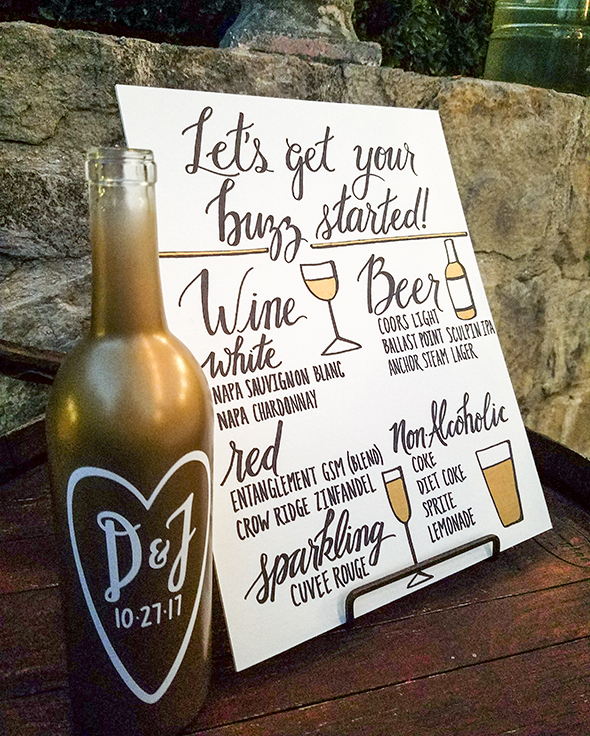 Probably the best thing about working on this wedding was being able to make the day beautiful for my friends. I really enjoyed brainstorming with the bride and the groom and bringing back the finished pieces that fit right into their vision for their special day.
Everything about this wedding was unique and interesting, which makes for an awesome set of final photos. I was honored to be invited to capture such an intimate wedding in such a breathtaking location. The rain held off for most of the wedding day, but the ceremony location was blanketed in fog, giving a surreal feeling to a lot of the photos. Beautiful and unforgettable!
Lodging/Cocktail Hour: Marin Headlands Hostel
Ceremony: Point Bonita Lighthouse (Sausalito, California)
Reception: Sausalito Seahorse (Downtown Sausalito, California)
As you can tell, the girls were definitely having a great time during our bridesmaids portraits. I love the personality and fun!
Venue: Vezér Family Vineyard – Blue Victorian
DJ: DJ Talley (Doug Talley)
Bride's hair: Lindsey Koutz / So Lavish Salon
Bride's makeup: Roxanne Sconza / Mary Kay Skincare & Cosmetics