Last fall, I attended and designed for my friends' beautiful wedding in the California wine country. As I worked to bring their vision to life and created elements that fit their venue, I got thinking about how many weddings (at least in California) that take place at vineyards. So, I continued designing items for a winery wedding, starting with these table numbers, now available in my Etsy shop. This design is available as a digital download, making it easy for you to add custom design to your event.
I really enjoy being able to design for weddings beyond the invitation and work on all the little touches that personalize the wedding day itself. Once the wedding invitation was in the mail, there were a bunch of items to make for Denise and Jared's winery wedding. It was quite the variety, from hand-lettered signage, to favor hang tags. My personal favorite was the bar signs, so much fun (and gold ink)!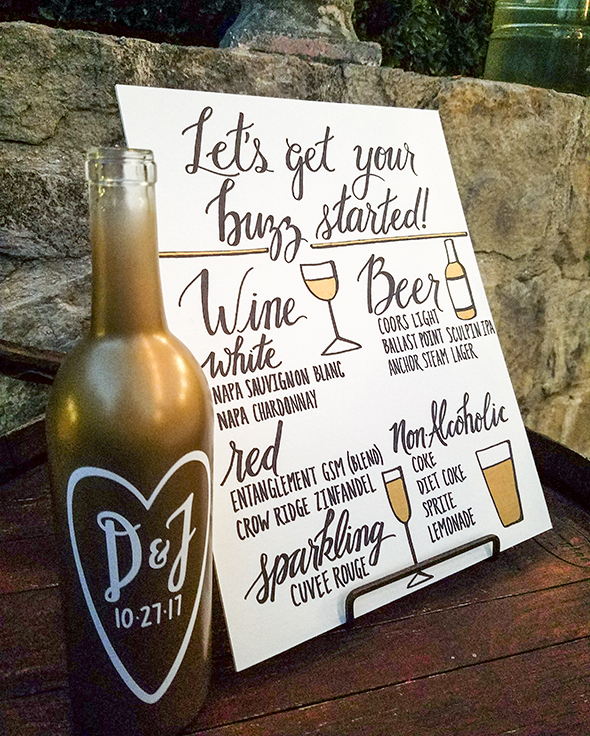 Probably the best thing about working on this wedding was being able to make the day beautiful for my friends. I really enjoyed brainstorming with the bride and the groom and bringing back the finished pieces that fit right into their vision for their special day.
I'd been hoping these two would tie the knot for some time now. When they were ready to walk down the aisle, I got to help make their wedding day extra special (and be a guest at their wedding). We started early, working together to build a custom wedding invitation set that tied into their St. Helena vineyard wedding. The final set was so much fun to put together!
I got to have some fun creating the wine glass stains from scratch with watercolors and combining a bunch of different elements the bride and groom liked to create one unique wedding set. My favorite little piece, requested by the bride, is the heart etched into the wine barrel illustration on the back side of the invitation card. So creative!